Your furry little friend deserves a comfortable living space in your home, and one of the many suitable options for you is dog crates. They're pretty practical in a world where dog owners have to leave for work regularly. 
Also, crates often mark the dog's spot in the house, making them stay calm and relaxed while you're away for any length of time.
But hold on! Those aren't the only reasons to get a dog crate for your pet. After all, big pet stores would sometimes offer utilitarian crate options that neither fit your home's aesthetic nor make the dog feel as comfortable. So what gives? 
Generally, we'd expect that you'd have some personal variables to consider when getting a dog crate. That's why you'd want to settle for a much more balanced alternative like custom dog crates. 
"Why custom dog crates?" you might ask. Let's show you five great reasons you should get a modern custom dog crate for the home right away. 
Custom Dog Crates are Show Pieces
Why settle for regular when you can get extra for your dog? Custom dog crates allow you to give your pet a little more than a living area. Their designs look more pleasing and make you feel like you're displaying your pet rather than stashing it away in a box. 
You can tell from the materials used in some of those crates. High-quality wood and clear dog crate panels are used for exotic custom dog crate exteriors. Plus, you could have sliding double doors with extra drawers for treats to complete the look. 
On the inside, you could place a soft dog bed. Since it's custom, you shouldn't have any issues with the fit, as your dog's size would be a significant factor. Then, you get to pick out an accent color or extra accessories you want. 
The result is a modern custom dog crate for the home that looks equally exquisite and playful. Your canine friend would love that over a boxed cage any day. 
Custom Dog Crates Can Complement Your Decor
It's one thing to have a cute dog kennel in the house and an entirely different matter not to have it stick out against the prevailing decor. Whether you have a minimalist vibe or a more classic look in the home, custom dog crates allow you to house your pet without breaking the form. 
Do you need the crate to blend in with toned-down color schemes in the house? Maybe a functional design to mimic a side table? Your unique dog crates can hold the double duty of maximizing your dog's living area in limited house space. You could also have a modern dog crate furniture design to fit any design statement you want. 
The dog crate could have wood linings on the side and clear dog cage doors on the front. Lucite materials also give a flattering, understated look that blends with any existing home design. Consider trying various custom options till you get the one that suits you and your pet.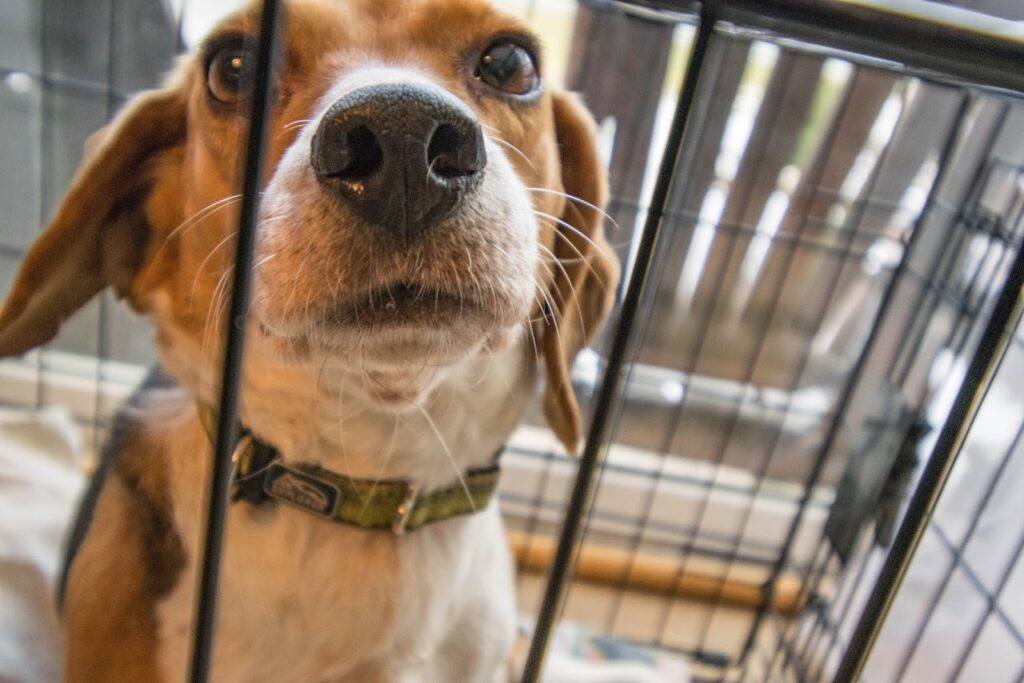 Custom Dog Crates Give You More Functions
Modern custom dog crates are still your best bet if you value function over form when choosing a crate for your dog. They offer more functionality than regular box kennels, and that might save you some money down the line.
Do you need a mobile dog crate? You could get a custom collapsible option that's much safer and more comfortable than conventional cages commonly seen at animal shelters. These custom crates have a sturdier unibody frame with collapsible mesh that guarantees better comfort for your dog.
Also, custom crate options are perfect if you want a travel enclosure for your pet, thanks to their immense versatility. Stores like https://shophiddin.com/collections/crates have some excellent travel crate options you could consider.
Custom Dog Crates are Great Against Separation Anxiety
All the style and aesthetics in the world don't matter if your pup wouldn't stay put in a crate. Separation anxiety is a huge issue, and your dog needs an area that's calming and comfortable.
Modern custom dog crates for the home are an excellent idea in such a case, partly because you get to choose what they look like for your dog's use. You could have options that physically remind your pet of security – house-shaped crates are a great example of that. 
Also, it helps if the enclosure isn't blocked out or opaque. Clear acrylic doors are a perfect match to any dog crate design you have, and they allow the pet to have a better view of the area from the inside. These are points that count to relieving your pet of separation anxiety.
Modern Custom Dog Crates are Safer From Crashes and Impacts
If you intend to carry your dog around in their crates, it's essential to know how they can protect your pet in the event of a crash. Modern custom dog crates have safety features against impacts in cars, RVs, and other vehicles. They also go through several standard safety tests for a better guarantee.
However, it helps if you still research what safety levels the crates can provide in your case. You might be more susceptible to crashes and impacts – say you hike on rugged terrains with your dog. Some custom dog crates have more rigorous testing standards and would be handy in such cases. 
Wrapping Up
Your dog needs the best care you can get, but finding mobile and comfortable living space for it can be challenging. Traditional crate options may be too practical and rigid for the purpose, or they may contrast sharply with your home design.
Modern custom dog crates are a much better alternative, and we've highlighted some simple reasons you might want to make the jump today. You'd be happy about their versatility and function that doesn't compromise your available space. 
However, it's noteworthy that your dog's size is a constant determiner for any crate option you decide to choose. Thankfully, custom dog crates come in different sizes, and some of them are highly adjustable as well.