The beautiful state of Tennessee, also known as "The Volunteer State" is home to famous celebrities such as Dolly Parton, Morgan Freeman, Samuel L. Jackson, Justin Timberlake and Aretha Franklin. It's one of the most geographically beautiful states in the United States of America.
Tennessee is known as the country music capital of the world. This historic city is known for its western and country music, great whiskey, and booming agricultural and commerce markets. 
The major industries in the state of Tennessee include mining, uranium products, farming and music. Oak Ridge in Tennessee is popularly known as the Energy Capital of the World for the research and work on the atomic bomb done there. 
Tennessee is home to different beautiful cities such as Nashville, Memphis and Knoxville. This state is a great place for living and working and a nice vacation spot for tourists.
The state's vast array of historical landmarks and tourist attractions promises to bring long lasting memories to anyone who visits. We have researched and analyzed the nine best landmarks Tennessee has to offer you. Read to the end!
9 Most Attractive Landmarks and Tourist Attractions in Tennessee
The landlocked state located in the south-eastern region of the United States has a rich history and numerous landmarks situated in various cities across the state. 
These Tennessee landmarks are in various forms including Appalachian mountains, underground waterfalls, caves, rivers and beautiful parks. The following are the top rated landmark attractions in Tennessee.
1. Great Smoky Mountains National Park
The Great Smoky Mountains, America's most visited park is an amazing getaway. It's located on the border between North Carolina and Tennessee. The great smoky mountains national park consists of hill upon hill of an apparently never ending forest. 
Popularly called the smokies due to the never ending morning fog, this range of mountains is also known for its variety of plants and animals. 
Fast flowing waterfalls, meandering wildlife and a beautiful view that spans up to almost 600,000 acres, the experience in the Great Smoky mountains varies from season to season with  new amazing scenery to explore each time. 
A trip to the Great Smoky Mountains, one of the most beautiful Tennessee state landmarks, would leave you with a beautiful smile on your face and memories you'll cherish forever.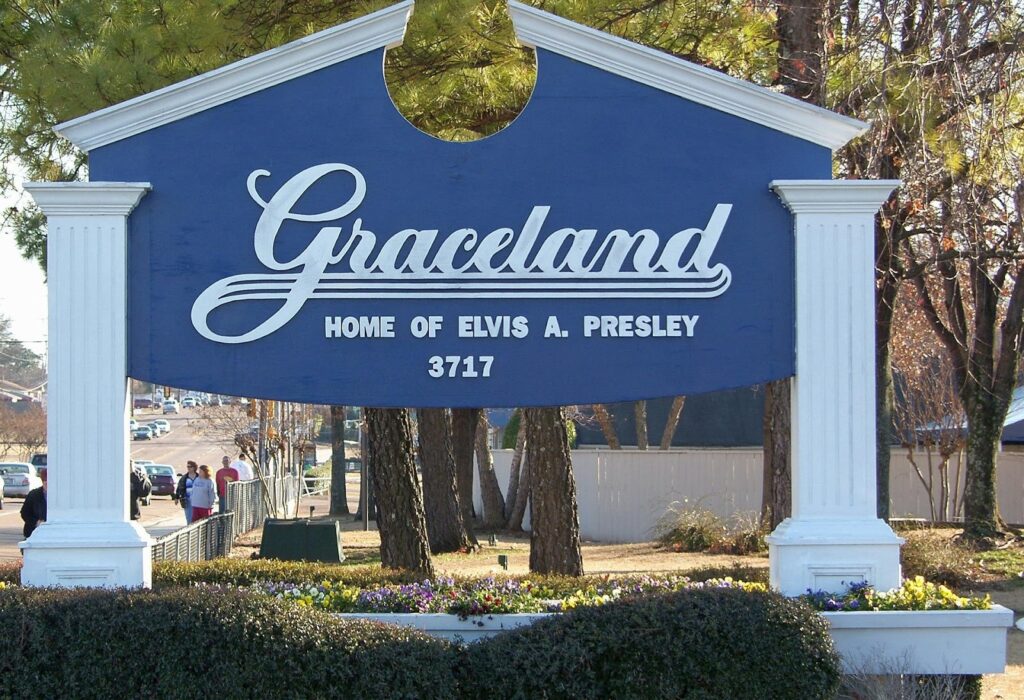 2. Graceland
Undoubtedly, Graceland,  Elvis Presley's former home is one of the most famous and most visited historic homes in the USA. Graceland is located in Memphis, Tennessee.
Despite the death of the famous singer 45 years ago, people still come from around the world to visit his beautiful estate. The estate consists of a residential mansion, several vintage cars, clothes and his many awards. 
There are two luxury airplanes sitting on the estate and his tomb is in the garden. Graceland is the 2nd most visited home in the country. Visitors take a tour around the estate and always have a great time. 
3. Montgomery Bell Tunnel 
Formed from limestone using gunpowder and slave labor, the montgomery bell tunnel was USA's first successful water diversion tunnel. It was built in the year 1818 and remains extremely controversial due to the fact that slaves were the main laborers. 
The Montgomery bell tunnel is also known as the "Patterson Forge Tunnel" and the river bend, a popular canoeing and hiking destination.
4. Airplane Service Station
Erected by two brothers in the 20th century, Powell's Airplane Filling Station has been existing since the 1930's and has the shape of an airplane.
The building was first used as a gas station and built in that manner to attract customers. It's one of Tennessee roadside attractions that now serves as a barbershop in Powell.
5. Ruby Falls
Ruby Falls was discovered by Leo Lambert in 1928 and located in Chattanooga, Tennessee. It's the tallest and deepest underground waterfall open to the public in the United States of America. 
If all you need is a sweet distraction for an hour or two, then Ruby Falls is a great recreation center for you to spend some really fun time. 
6. Slave Haven Underground Railroad Museum
In one of the largest forced migrations in history, millions of Africans crossed the Atlantic via the scary "Middle Passage" between the 16th and 19th centuries. 
A German US immigrant, Jacob Burkle built an estate close to the Mississippi river during the time when Memphis was known for slave trade. He also built an underground route to help slaves escape and serve as protection for them. 
Located in Memphis, his estate now serves as a museum for tourists and visitors to learn about history, while the passage serves as an underground railway.
You can learn about the travails slaves had to go through when you pay a visit to the Underground passageway.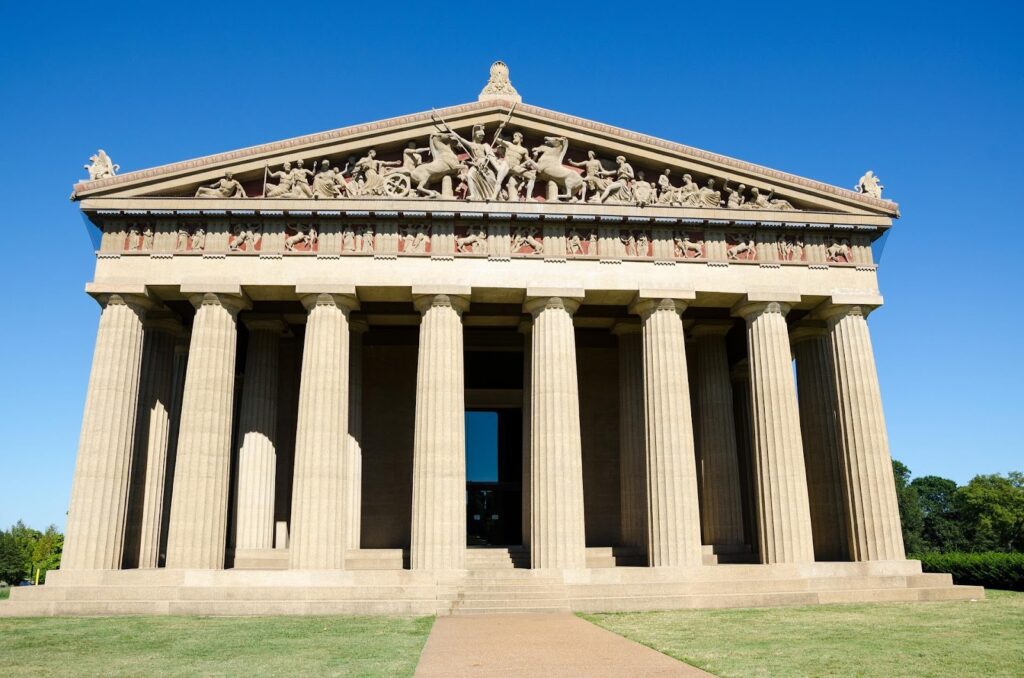 7. Nashville Parthenon
The Nashville Parthenon is one of the few Tennessee landmarks which represents a major historical feature, this one originating from Athens, Greece. It stands erect in the middle of the Centennial Park, Nashville's first urban park. 
Standing at 42 feet, the Athena Parthenos sculpture is the tallest free standing indoor sculpture of its kind in the whole of North America. 
The Nashville Parthenon Museum displays a collection of various oil canvas paintings and sculptures. There are also many temporary exhibitions on display in this museum.
8. Memphis Rock' N' Soul Museum
We can't talk about Tennessee landmarks without giving credence to the Memphis Rock' n' Soul Museum. It tells the stories of famous singers and the struggles they faced in their music career.
The museum offers proper education about music history and gives a guide to how the rock and roll genre of music came about. There are also many vintage music on display dating as far back as the 1920's. 
9. Ryman Auditorium
The Ryman Auditorium is a 2400 seater live performance venue located in Nashville, Tennessee. It was made a National historic landmark in 2001 for its vital role in the popularization of country music. 
The  Auditorium hosts different concerts on a consistent basis and offers a tour for visitors in the daytime. 
Conclusion
Tennessee is filled with so much history and you won't be bored when you visit this beautiful state. For individuals and investors interested in profitable vacation rentals in this city, you can check https://theshorttermshop.com/sevierville/.
You'll have no regrets after your vacation if you visit these amazing tourist attractions on this list. Making beautiful memories is an essential part of living you have got to explore.